Registered User
Join Date: Jul 2009
Country: United Kingdom
First Name: darren
Posts: 28
my copy carver
---
just thought id post a picture of a copy carver ive built ,its crude, i could do with a little more patience.
teething problems so far with it are.. i fabricated the blue rails way to high.
the pillar bearings on the turn tables are sloppy,i should have used two sets of these instead of a pair and used box section instead of plate as the chain cranks have play in them.
im not sure whether to remedy this or do away with the turn tables all together i had the mind to just remove them when a project called for it then refit when ever i wanted to copy a stock..but im now thinking why cant i just lay the stock down flat with the blank placed down next to it and carve it out that way then flip them just like the guitar builders do.
im sure i,ll get there in the end and will probably end up scraping much of what you see.
any suggestions welcome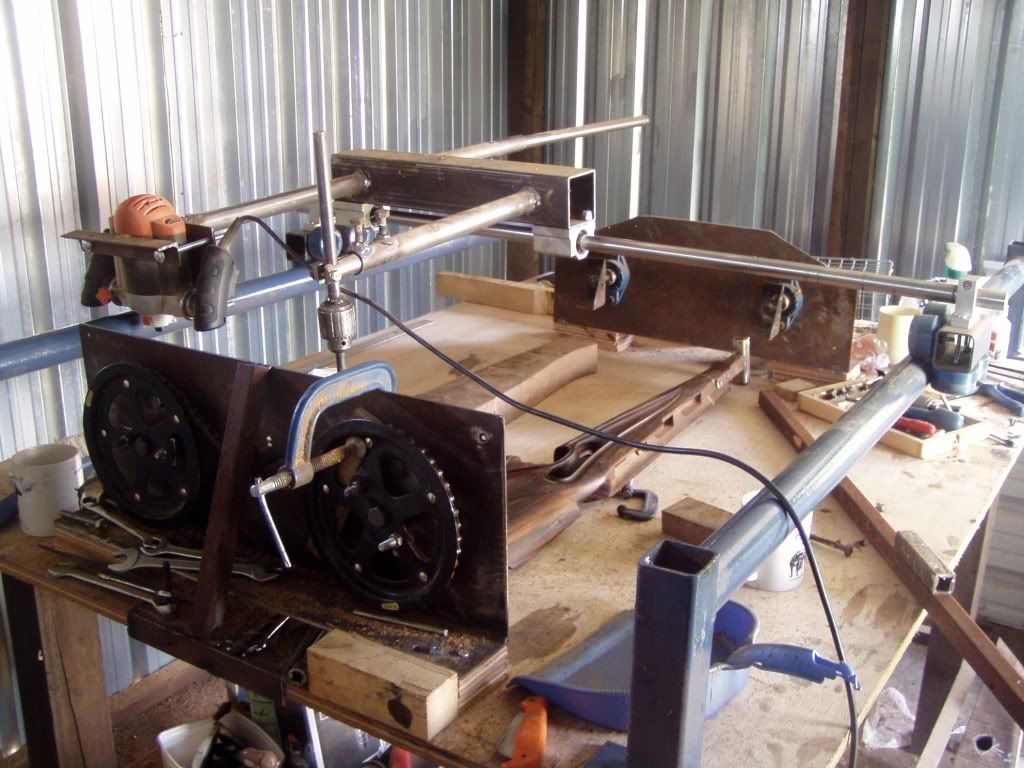 Registered User
Join Date: Apr 2009
Country: United Kingdom
First Name: mike
Posts: 1,124
---
That is a good effort. Improvements can always be made. A good start. B+
Retired Moderator
Join Date: Nov 2008
Country: Canada
First Name: Deb
Posts: 3,132
---
I applaud your ingenuity. I am sure you will iron out any bugs as you go along.
Registered User
---
Thanks folks theres a bit to change on it but when i finally get useing it trouble free i,ll update the thread.
Registered User
Join Date: Mar 2009
Country: United States
First Name: Harry
Posts: 282
---
You are off to a good start. I would recommend you use CNC Router Linear Guide Bearings. I have seen them on eBay (4 for under $50) You will never get all the play out of what you have. If you make a few different size stylus, with smaller cutters you can do finer details. keep us up to date.
---
Harry, TX
Cut it twice, and it's still too short!
Registered User
---
thanks for the advice old chipper i,ll look those up, im waiting on some of those sabburrs to turn up with matching stylus kits.
im looking forward to useing it.
Registered User
improvements
---
its coming along nicely i decided to make the rail that holds the router and stylus holder flexible if needed,it can be locked off in any position.
however id like to do away with this router and the way its assembled.
hoping some on here maybe able to help with that.
since only recently coming across a supply of round bodied routers im looking for a suitable clamp or router body collar like the one in the link below.
is there anything out there off the shelf that anyone knows of?or something suitable? thanks all, daz
YouTube - Gemini Wood Carving Duplicator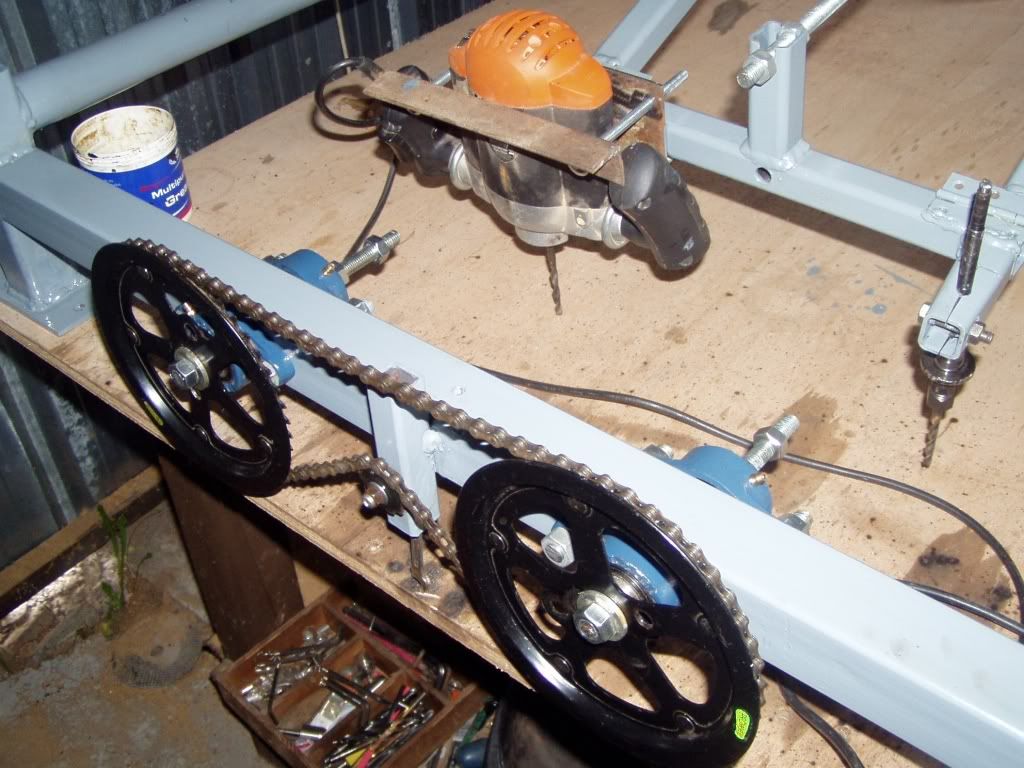 Registered User
Join Date: May 2009
Country: United States
First Name: Scott
Posts: 151
---
Very cool. You get an A+ for the rifle stock. I like the bike sprockets.
---
Thank You Veterans
Retired Moderator
Join Date: Nov 2008
Country: Canada
First Name: Deb
Posts: 3,132
---
Registered User
Join Date: Sep 2010
Country: United States
First Name: Hal
Posts: 7
copy carver
---
Great job on your duplicator. How about some photos of your finished stocks? I also carve rifle stocks.

Hal
Currently Active Users Viewing This Thread: 1

(0 members and 1 guests)
Posting Rules

You may post new threads

You may post replies

You may not post attachments

You may not edit your posts

---

HTML code is Off

---