Registered User
Join Date: Aug 2012
Country: United Kingdom
First Name: Scott.
Posts: 173
Table with inlaid stones in the top.
---
I'm wanting to make a wooden table with stones inset into its top.
I've seen an example of one that someone else made on the net and copied the pictures onto my computer for reference.
Here is the pictures of the one I like. Again, I didn't make it. Only copied the images off the internet.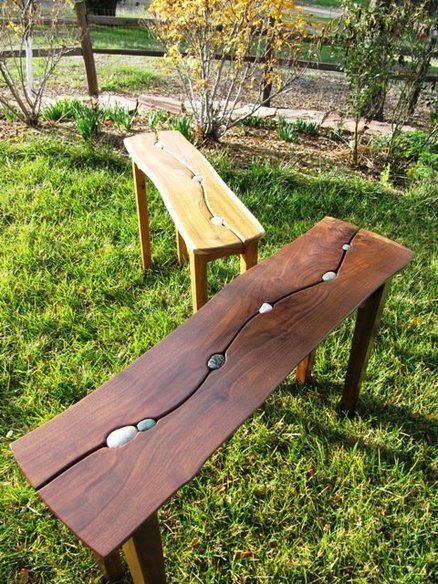 Then I've been for a walk along the beach with my three year old ("
Nearly four Pops!!!"
) granddaughter picking up unusual stones and taking masses of pictures all the time.
In the semi distant future would like to set several of these stones in the table top to give her the table, along with the photos of the day finding them.
Now I could cut them out with a jigsaw but am wondering if there's a neater way to do it with a router.
Does anyone have any ideas of a better way?
---
Last edited by demographic; 01-30-2016 at

01:47 PM

.
Registered User
Join Date: Dec 2011
Country: Canada
First Name: Dan
Posts: 14,941
---
A full size pattern and template would be my first choice.
Another concept you might consider is to slice the rocks in half lengthwise on a wet saw (rocks mounted cut side down). It'll make the routing part simpler, and certainly more comfortable to sit on if the rocks don't stick up too high(?).
https://www.homedepot.ca/en/home/p.7...FZBhfgodLF8H8Q
Forum Contributor
Join Date: Jan 2013
Country: United States
First Name: Stick
Posts: 29,256
---
trace the stone and cut a template...
mark the location for the stone using the template...
make the cutout w/ your jigsaw or router...
use your router w/ a RO bit to soften the edges...
plan ''B''...
do the stone as an inlay...
Making Inlays With A Router - NewWoodworker.com LLC
perfect the fit on scrap 1st...
---
This would have been the week that I'd have finished chewing thru the restraints...
If only new layers hadn't been added....

Stick....
Forget the primal scream, just ROAR!!!
"SNORK Mountain Congressional Library and Taxidermy"
Registered User
Join Date: Nov 2012
Country: United States
First Name: Richard
Posts: 2,983
---
+1 what Dan and Stick said.
---
"The difference between genius and stupidity is that genius has its limits". Albert Einstein
Registered User
Join Date: Jan 2015
Country: United States
First Name: Andy
Posts: 901
---
A sharp chisel?
---
"We should be careful to get out of an experience only the wisdom that is in it and stop there lest we be like the cat that sits down on a hot stove lid. She will never sit down on a hot stove lid again and that is well but also she will never sit down on a cold one anymore." - Mark Twain
Registered User
Join Date: Jan 2016
Country: United States
First Name: John
Posts: 38
---
Hi Demo,

I did a similar table last year. Hadda old piece of Chestnut burl that I wanted to inlay (table top is maple and cherry). I sliced the burl, traced the pattern on top, then routed it (very carefully)...as Dan & Stick mentioned, then used 2 part epoxy, filled in the gaps. Flattened it all down (as the burl was rather proud to table top...as I intended) with a power-planer, then subsequent grades of sandpaper...etc.

Once I conquered that, I got some polished river stone and did the same thing. I laid out the stones where i wanted them, traced the outline, then using a trim-router and a 1/2" core box bit, roughed out the hole (with rounded bottom & sides) to allow me to fit the stones into the top...again, about 1/2 depth of the stone proud. Used the epoxy again, although this time, carefully added it around the edge of the stone to just bring it level to the surface of table, since I could not sand or file the cured epoxy around the stone. All of this had to be done AFTER having done surface prep to the table top (sand, prep, & at least 1 coat of poly), since you don't want to poly over the stones.

Fun project...some people look at the table and say "gee...WHY did you do that?" Others say" GEE...HOW did you do that?" Pictures are attached...

Have fun.

John
Registered User
Join Date: Dec 2015
Country: Canada
First Name: Keith
Posts: 1,151
---
I did a table using two pieces of live edge arbutus...but I never thought of adding any stones.

That's a great idea and it looks terrific. Sure would like to see yours when you get it done. Good luck!
Registered User
Join Date: Dec 2011
Country: Canada
First Name: Dan
Posts: 14,941
---
Wow! Great job on the routing, John!! :0
Forum Contributor
Join Date: Oct 2014
Country: United States
First Name: Herb
Posts: 8,106
---
This thread opens a whole new world.HMMMMMMMMMM................................. .......

Herb
Registered User
Join Date: Aug 2012
Country: United Kingdom
First Name: Scott.
Posts: 173
---
Well thanks guys, great response and pictures from someone who's actually done it with excellent results.

Jigsaw plywood template, maybe after using one of those scribe wheel things for the correct offset so I can use a guidebush which will allow me to incrementally lower the depth of cut to the correct depth.

I don't want to cut the stones to thickness if I can help it.

I gave her the brief of finding as many different and interesting coloured stones as possible and she really did well.
She found a fair range of stones at the beach, from igneous through metamorphic to sedimentary and even a few bits of well waterworn coloured glass.

I doubt I will be making it too soon but hope to get something like cherry wood for the top and rout out the knots to possibly put stones in where they were so the grain looks like its flowing around the stones.

I'm a site carpenter by trade so not a natural furniture maker.
Got plenty time (realistically years) before I need to do it and finding the stones was just me setting the idea in motion with the hope that she remembers us picking them (bearing in mind the fact I took loads of pictures to remind her, including some of the stone haul in the back if the car to tie the memory into the day).

I'm trying to work out what areas those stones have travelled from to get there as well, just so she has a bit of a story to go with it all.
Currently Active Users Viewing This Thread: 1

(0 members and 1 guests)
Posting Rules

You may post new threads

You may post replies

You may not post attachments

You may not edit your posts

---

HTML code is Off

---