Discussion Starter
·
#1
·
Well it has been awhile since I took any photos of my shop. 2 years ago I started to really make a decent shop for myself. If you could see what I used to call a shop... you would laugh. Still the same spot....the front portion of a 1 car garage. The area measures 8 foot deep to the back wall and 13 feet wide. I also use about a 2 foot deep area down the side of the garage for storage of sheet goods and a dresser that holds the miter saw and belt/disk sander. I have continued to add a few pieces of equipment and have since added some additional storage with some garage sale dressers that work nicely for benchtop tools and I also have added some of the kitchen upper cabinets that I removed from our kitchen ( remodel ongoing ) Anyway, thought I would post a few photos:
Photo 1: This is the one of the dressers that contain pen blanks, pen parts and other tools and small pieces of wood. Also this is where the router table sits along with the benchtop drill press that is bolted down to the top. Works great!
Photo 2: Cabinet that I built to hold my cordless drills, routers, circ saws, hand tools, router table items and of course storage for tool chests and above that storage for clamps etc.
Photo 3: The scroll saw fits in between the 2 cabinets on the back wall. In the corner is the cabinet that has my turning sharpening station on top of it along with the shop radio and the battery charging area. Wood storage below.
Photo 4: Table saw and the cabinets I added from the kitchen above game me some great new storage.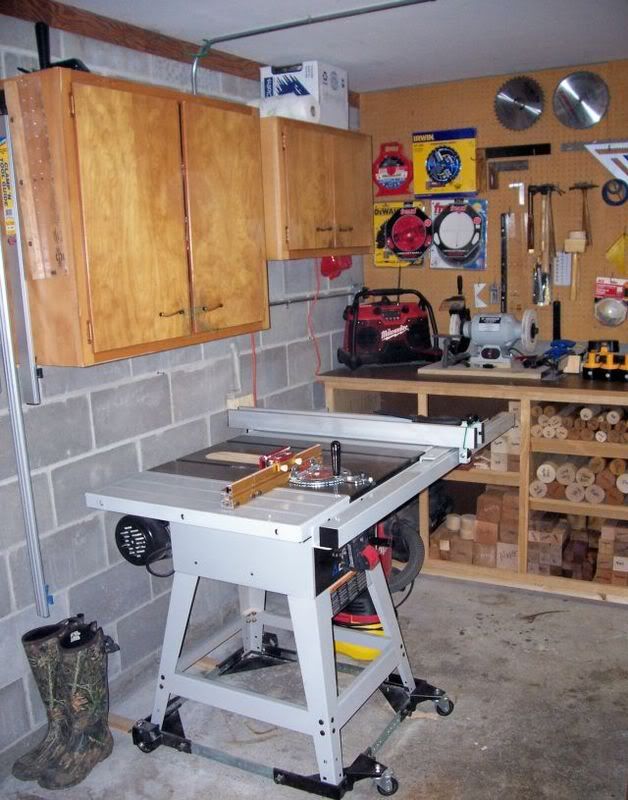 Photo 5: Close up of the cabinet that houses my stock for making boxes as well as some of my turning stock.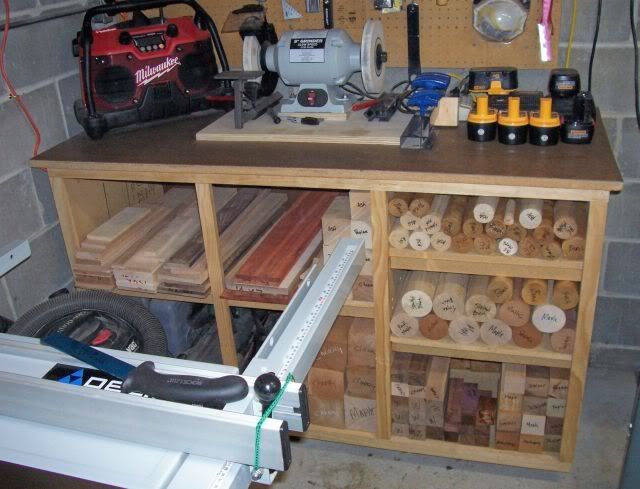 Photo 6: This is the turning station. I built the cabinet to hold my PSI mini lathe and it is mobile as I usually pull this out and work in the middle of the shop. Holds turning tools and supplies as well. Another cabinet above from the kitchen remodel. That's a little screw driver handle turning project I am working on.
Photo 7: This is a shot of another one of the garage sale dressers that gives lots of storage and I have my little benchtop sander, mitersaw storage here as well.
Photo 8 & 9: This is my mobile workbench. Nothing pretty but it works for me. This was a home center wood bench that I rehabbed. I placed casters on it and covered it with masonite, enclosed it. Below is storage for my aircompressor so it is always handy and storage for my cased nail guns and a few other cased tools. The van pulls right up to the back of it and I still have room to walk into the shop area and work behind the bench etc.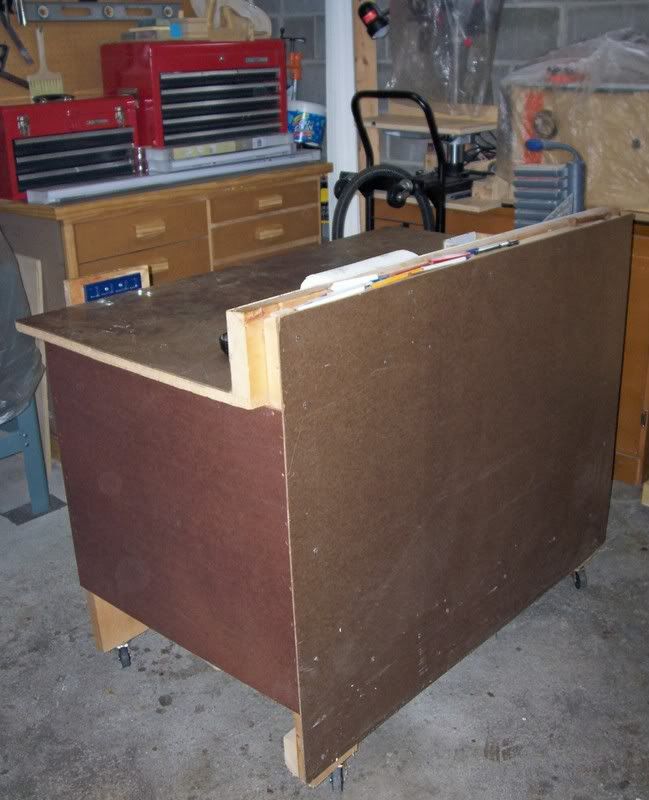 I hope you have enjoyed my shop tour as small as it is but I call it home! Just shows you can work in a small space.