Hi Bill
You touch on some interesting issues. Like you I'm aware of the ways of working in the construction industry which means that a multitude of small errors can be overcome simply because the last items in the process, such as skirtings (baseboard) which can be used to cover minor defects in the plasterwork (although to be fair I was taught that plaster should always end 1in shy of the floor in any case to reduce moisture wicking).
When making a piece of furniture or a cabinet it's a little different. All the cuts for the man carcass or frames need to be bang on and to that end you need to check and double check the accuracy of your right angle cuts. As others have said, though, don't set-out the joints until you have prepped the materials, after all the 24mm called for in the drawing might be 22mm in your material because you needed to take ot some cupping. Are your squares accurate? Do you know how to check them? Many woodworkers squares are a mile out to start with; cheapish all-steel engineers's squares of "B" grade are a fare better bet and very affordable. Is your saw (table or mitre) cutting a true 90 degree cut? Again do you know how to check it without using a square? Getting the angles and measurements right is a must and to that end you touch on a technique used by time-served joiners and cabinetmakers for centuries which does away with the inherrent human error-prone use of a measuring tape - the rod or story pole:
ie use of story sticks instead of rulers ?
If working from scale drawings it is always better to set-out everything full-size on the "rod" then transfer all dimensions directly from the "rod" to the material. Smaller dimensions are often best transferred using relatively cheap wing dividers:
(the somewhat tattier ones I carry cost £2, or $3, from a flea market) Which can also be used in conjunction with a steel ruler and a set square to divide lines into any portions you want - want to mark something so that it's 2/7ths of 15.6in (comes to more than 10 decimal places on my calculator)? No problem. By now you'll be getting the impression that I don't measure all that much and you'd be right.
Another aid in this area is to use a single tape throughout a job - not all tapes are equal. If you don't believe me pull out three 3 metre (10ft) tapes side by side and I'm almost certain that at least one of them will have some obvious variations (and that's for the better quality makes like Stanley or Lufkin). If you need to measure something absolutely then the only way is an engraved steel engineers rule and not a screen printed aluminium rule or a tape.
Knifing to a line is traditionally how cabinetmakers worked, just as they also use cutting gauges to mark out across the grain and marking gauges to mark with the grain
Above: Cheap carpenter's and joiners marking gauge - for use with the grain
Below: Cutting gauge - for use across the grain. Note that the blade is removeable for sharpening
(and a mortise marking gauge for setting out M&T joints, Jerry) and they also use a knife with the blade sharpened only on one side:
not a Stanley knife (the bevel face is used on the waste side of the cut). For joinery this is less of a need because the level of accuracy required is generally somewhat less, but it doesn't mean that you can be slapdash. On less critical softwood joinery tasks I often mark out with a pencil - generally a Staedler 2H rather than a cheap Chinese HB - the harder lead makes a finer line and you can sharpen good quality pencils more easily whilst on hardwood jobs I tend to knife the line
If you are making multiple identical components it can make sense to gang saw two or three pieces simultaneously or if cross cutting on a mitre saw or radial arm saw to set a fixed end block then cut all alike components in one run. as soon as you get the tape out your accuracy is gone.
A small, competent marking and measuring kit with a couple of squares, a steel rule, a marking knife, marking and cutting gauges doesn't cost a fortune and reaps dividends in terms of accuracy. Over here in rip off Britain I could probably put a flea market kit together for £15 ($22) - new tools would up it to £40 ($60). Other stuff like sliding bevels, mortise gauges and a good quality (engineer's) combination square can be added at a later date, or when required. Without such a kit I cannot see how I'd ever do any reasonable work
I have found that marking knives while accurate are at times difficult to see. I have a drawer full of sharpened pencils with very fine points.
Hi Mike
The reason for using a marking knife is partly that it shears the grain at the surface and makes for a cleaner cut on joints like tenons. An oblique directional light source, as opposed to the diffuse illumination of strip lighting is preferable although the cut can always be highlighted by using a pencil afterwards
other than the Lion knife (the company closed it's doors)
Hi Stick
As you are probably aware, the Lion was a generic mitre guillotine which almost every woodworking machinery seemed to make a version of from the late C.19th until into the 1950s, often in 4 or 5 different sizes. Pootatuck Corp. were the last man standing in the USA until they finished, but here in Europe the place of that type of machine was taken over by the Morso-type guillotine from the late 1950s onwards:
This type of machine is especially favoured by picture framers, although there are other, slightly different machines made by the likes of Orteguil: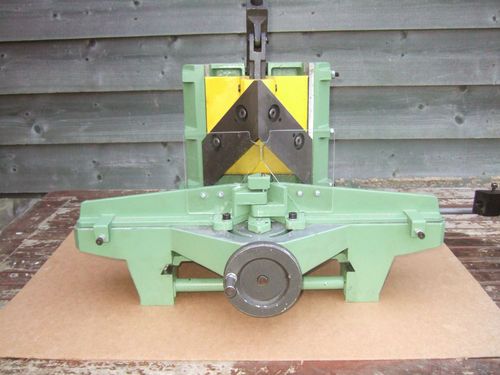 although there are Chinese copies of the traditional mitre guillotine still to be had, such as this one sold by Axminster Power Tool in the UK (although there are other people selling them both here and in the USA):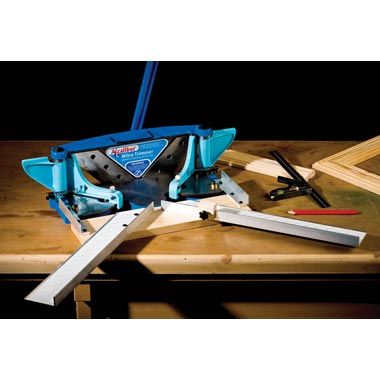 Of course traditional hand woodworkers made do without such contrivances and simply made a mitre shooting board for use with their jack or jointer plane like the ones in
this excellent article by Derek Cohen
Regards
Phil