David - Machinist in wood
Discussion Starter
·
#1
·
This is puzzling to me... I can scribe a line on my spoilboard, move the Y axis 48" by command line, scribe a line there and it measures exactly 48". I can do the same with X and move 25.75" and the measurement appears perfect. I am using a tape measure because that's all I have for measuring that distance. However, I used 3 different tape measures by 3 different manufacturers and each one measures identically.
But, and this is a big 'but' to me, if I am cutting a pocket it ends up being undersized. Same with an inlay piece - undersize. I can compensate in the software (Fusion 360) but I shouldn't have to do that. If I cut a 1" square for an inlay piece and specify a 1.006" pocket then the inlay should fit with 0.003" clearance all the way around - it doesn't.
I understand different woods, grain is hard in some areas, soft in others, cutting with the grain, across the grain, etc., but generally a 1.006" pocket should be 1.006", not 0.993". And a square inlay piece that is programmed to be 1" should end up being 1", not 0.992". Also, it's safe to say that all I cut are hardwoods and they hold their dimensions better.
With simple shapes like squares, rectangles, circles, etc. it's easy to make them fit. But when I need to do complex shapes - music notes, arcs, a deer or car - it's very difficult to make these fit and sometimes downright impossible.
When I first calibrated the CNC after I built it I did all my calculations under 6" so that I could use my dial calipers. What I found is that I could get it spot on for a 4" square, for instance, but if I needed to cut something 48" in the Y direction or 25" in the X direction it was off by 1/8" to 3/16" and that's simply unacceptable. So I did it the other way - I made the greatest distances as accurate as I could get them figuring that the smaller dimensions would now be very close if not perfect (within tolerance for the machine, of course).
I have a few projects coming up with multiple inlays in each, probably 20-30 inlays and they're all different shapes and sizes, so I need to get this right. Today I cut some test pieces using a bit that measures 0.123" - a downcut 2-flute spiral - and climb cutting a rough pass leaving 0.005" on the side walls. Then I followed up with a clean up pass in conventional cut to remove the final 0.005". I figured that should take out any flex issues on the bit and also compensate for different grain directions. The feed rate was 75 ipm so not very fast. I was more concerned about pieces being accurate than being cut fast.
Inlays fit but are undersized -
Measurements of pockets and inlays -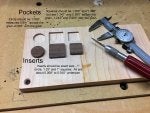 Using 2" as zero to test Y axis calibration -
Moved 48" and this appears to be perfect -
Using 2" as zero to test X axis calibration -
Moved 25.75" and this appears to be perfect -
Setup for X axis calibration -
So how can I get these inlays and pockets to be correctly sized? This generally isn't affecting the Longworth chucks I cut so many of and it certainly doesn't affect plaques or signs. But I don't see how it can be right at the greater distances but off on the smaller distances. I also see this when I need to cut a larger hole to fit a dowel, say 1 1/4". If I specify the hole to be 1.260" to give a little clearance then what I find is the hole comes out 1.235" to 1.240".
Help!!! :crying:
David