For your entertainment.
Having fallen into the woodturning vortex, there's not much flat-work being produced in my little shop these days.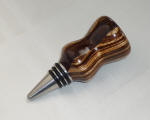 Here is a page with my first two
bottle stoppers
, turned today
... and some
other recent projects
... and a little photo
tour
of my basement shop.
Now to get back to work on my first bowls.
Enjoy.