My wife has started a twitch channel doing paintings. Somehow she has joined a group of DJ's so they collaborate and she paints while they DJ. They in turn DJ while she paints in the background on their channel. She is having a blast and I am super proud of her. So I designed a pattern to celebrate here achievement.
This is the logo image I made for her as well.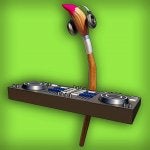 If anyone is even remotely interested in making their own patterns I really encourage you to pursue it. It is a ton of fun having something pop into your head and making it real. Also incredibly rewarding.