Thats what go me started. Vevor Cnc 3018.
X bearing stuck bad. I got 4 new x linear bearings they stuck, vevor sent me some they stuck.They had 2 short bearings end to end so I got one long bearing to replace 2 short. that fixed it.
I got a bigger y axis motor. It did not seem strong enough and gave out.
upgraded the spindle but the old one was fine. It was slow at first so i got a faster one then..I do not know the old one just ran faster. So have 2 good ones now.
the y axis whole in front did not line up with the motor in back so the screw drive was not inline with the bearing, till I bored out the whole the bearing was in.
now it runs fine. but Im hooked and had to build another.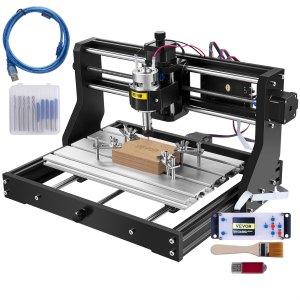 Discover Cnc 3018 Pro Cnc 3018 Cnc Machine Engraver For Wood Leather Plastic, Large Working Area and Powerful Motor at lowest price, 2days delivery, 30days returns.

www.vevor.com