Well I took off my thumb nail and ended up on the floor and sprained my wrist and because I have problems getting up, I stayed there until my wife found me.
Hi Ian
You may be making a case for lateral thinking. A hand conventional hand held router, even a D-handle one requires a two hand hold and a stable stance. Using 1/2in plunge routers (sorry gents, but in the UK plunge is about all you'll get in 1/2in), with all the extra weight and power (and torque reaction that comes from that power) adds to the potential problems. There are two approaches I can think of - firstly a back-handle router and secondly an overhead (pin) router. Of the former I can only think of two models still on the market, the Festool OF1010 (which replaced the earlier OF900 and OF1000 models) and the Mafell LO50e which is is possible to us one handed and which aren't overly heavy: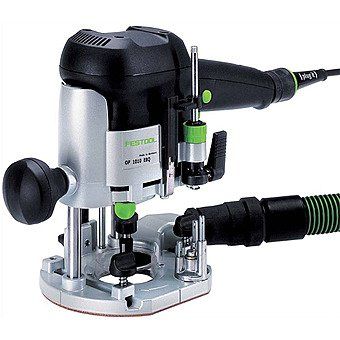 Above: Festool OF1010 8mm plunge router
Below: Mafell LO50e 8mm plunge router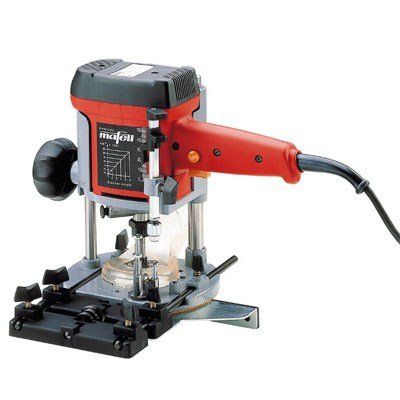 If you think they look similar it's because they are both made by Festool.....
In use, except for making the plunge, these routers are easily controlled single handed if needs be: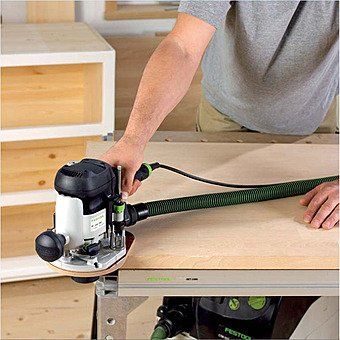 At 1000 and 900 watts respectively (I think) they have enough power to handle a lot of routing tasks without getting bogged down and they are considerably less "tippy" in use that laminate-trimmers or those "palm routers" such as the DW611 derived from them. Elu used to make an even lighter model, the 600 watt MOF67, but as they haven't been made since the late 1980s or early 1990s I think you'd struggle to find one.
Of course it is possible to get a heavier back-handle router, the one known example being the Festool OF1400:
but that comes with a lot greater power and a lot more weight to manage.
The other possibility might be to consider some form of overhead pin router, such as the ShopSmith attachment
or one of the many home-made add-ons for radial arm saws and drill presses seen around the web. With an overhead router you don'y have to hold the router's weight, only the weight of the material - and not even that iy your support table is big enough. I can confirm that to use a pin router (industrial in my case) for a day is somewhat less tiring than using a hand-held 2000 watt plunge router for the day, assuming the same rate of working (which in reality doesn't happen - you tend to work much faster on a pin router). Of course the other way is to attach your router beneath a table.....
Regards
Phil