David - Machinist in wood
Discussion Starter
·
#1
·
These two aren't related but I just wanted to offer up what I did yesterday. The V-bit carving is for our church office manager. They have three dogs but I guess Ruger is the most photogenic. :wink: This is cut into Maple and is about 6" x 10".
The US Flag is for my 16-year old nephew. He asked for a simple one he can hang on his wall and this should work just fine. It's about 21" across and made of Baltic Birch. I just think it's awesome that a 16-year old wants a US Flag on his wall!
Both are finished with Nitrocellulose sanding sealer, then wiped with Mohawk Van **** Brown glazing stain which is wiped off about as soon as I apply it, then the final coat is semi-gloss lacquer. The finish takes less than an hour from bare wood to finished piece.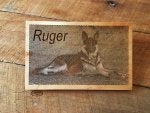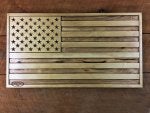 David